LOGO!Power
The LOGO!Power line offers the benefits of switched mode, touch safe power supplies for a price close to open frame linear regulated units. It is the most cost effective choice for all applications up to 100 watts for 24 VDC, and up to 60 watts for output voltages of 5 VDC, 12 VDC, and 15VDC. The wide input voltage range from 85 VAC to 264 VAC makes them ideally suited for worldwide applications.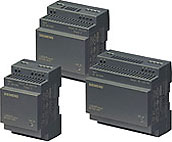 Despite their small size and low cost, the new LOGO!Power family has a lot to offer. Redesigned to be even more compact and space-saving, they require less mounting space and offer more functionality:
Two output classes, each with 5 V, 12 V, 15 V and 24 V
■ Compact design
o Low current unit now measures 54 mm width
o High current unit – 72 mm width
o 24 VDC/ 4A unit – 90 mm width
■ Low profile, ideal for installation in shallow panels
■ Design adapted, but not limited to LOGO! microcontrollers
■ Integrated power boost function to serve high inrush requirements
■ Output voltage adjustable via front access potentiometer
■ Green LED indicator for "Output voltage OK"
■ World-wide applications – from industrial environments to residential low-voltage requirements
■ Wide input voltage range from 85 VAC – 264 VAC fits most networks worldwide
■ Wide operating temperature range from –20 °C to +55 °C (–4 °F to +131 °F) to suit most environments
■ High EMC requirements
■ Comprehensive certifications including CE, UL/cUL, FM and Shipbuilding Approval GL
o Certain units provide UL class 2 and ABS
■ Parallel connection for increased power output requirements
Possible applications:
5V - TTL-technology, electronic circuits, optocoupler.
12V - LOGO!12, building system automation, solar technology.
15V - Measuring and control technology, sensor technology, electronic circuits.
24V - Automation technology.
Best of all, the new features of the innovative LOGO! power family come at no additional cost.