Special Design, for Special Uses
Equipped for Special Tasks and Conditions
Restricted installation conditions, harsh environmental conditions, or special input or output voltages – whatever the special conditions, these standard power supplies meet even exceptional requirements.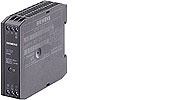 The smallest SITOP
The compact DC/DC converter 24 V DC/ 0.375 A is just 22.5 mm in width and ideal for powering 24 V low-voltage switching devices. You can use inexpensive time and monitoring relays instead of expensive special voltage models. The extremely lightweight rail-mounted devices are, however, also universally applicable. This is possible on account of their wide input voltage and temperature range.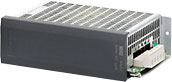 The low-cost introduction to regulated power supply - SITOP PSA100E
The single-phase power supply for the basic industrial requirement of 2.5 to 12 A can be mounted on a standard mounting rail or straight onto the wall. Removable terminals make the electrical connection easy.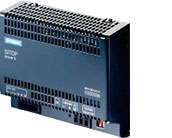 Flat design
The compact metal housing of the power supplies 24 V/5 A and 10 A can be accommodated where only limited installation depth is available, even in masked machine supporting frames or hinged frames.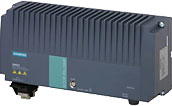 For extremely harsh environments - SITOP PSU300P
The 8 A power supply with IP67 degree of protection is suitable for distributed use in three-phase systems. The "24 V o.k." and "Overtemperature" states are each output via one signaling contact. The rugged power supply can be used at temperatures from -25 to +55 °C.
The Class 2 variant
The output power of the rail-mounted 24 V/3.7 A power supply unit is limited to 100 W and thus has Class 2 approval.